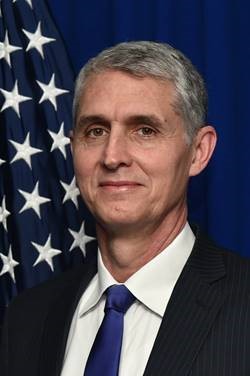 Minister Counselor for Public Diplomacy
U.S. Embassy Seoul
Mitchell Moss leads the Public Diplomacy section in Embassy Seoul in planning and executing our strategic communications and outreach efforts. Prior to this assignment, he directed the Office of Strategic, Proliferation and Military Affairs in the Bureau of Intelligence and Research, which provides intelligence analysis to senior policymakers on the global proliferation of weapons of mass destruction, strategic nuclear forces and conventional military forces and weapons systems.
Mr. Moss previously served as Deputy Director in INR's Office of Intelligence Operations and Oversight, charged with supporting relations with the intelligence community regarding operations, human intelligence requirements, and the promotion of global diplomatic reporting. Mr. Moss' prior overseas service includes Public Affairs Counselor in Islamabad, Press Counselor/Spokesperson in Paris and Berlin, and Deputy PAO in Kabul. Mr. Moss also previously served in Nigeria, Argentina, and Malawi.
Mr. Moss obtained an M.S. in National Security and Resource Strategy (with a focus on military aviation) from the Dwight D. Eisenhower School at National Defense University, an M.F.A. in fiction writing from the University of Iowa, a J.D. from Tulane University, and a B.A. in English and Philosophy from Loyola University, New Orleans. He speaks French, German and Spanish.